Larry Harrison
Larry Harrison started life as a cowman and yak keeper for the Tibetan Buddhist community at Karma Kagyu Samye Ling, in Dumfriesshire. After working his way up to the post of assistant dairyman on a commercial Ayrshire herd, he left Scotland in 1975 to work with disadvantaged children at London's Clapham Junction.
Larry became surprisingly good at persuading children not to stand on the railway tracks at Earlsfield Station. And he was able to talk them down from rooftops in Battersea, without them bombarding passers-by with slates. To this day, Larry is relieved that he was able to negotiate the release of everyone held hostage by Barry in the school unit. The Parks Department should not have left an axe unattended within sight of the building, and had Barry not been so amenable, the outcome could have been a good deal worse. (Thanks, Baz. What fun we had! Sorry to hear you were done last year for kidnapping that Assistant Governor on D Wing.)
During Larry's subsequent career, as a university researcher on alcohol and drug problems, he wrote Tobacco Battered, a BBC Radio 4 feature,  and over fifty journal articles, academic books and book chapters.  He was  appointed Reader in Addiction Studies at Hull, long a centre of excellence in problem drinking, before retiring to the East Yorkshire countryside to make cider and write fiction.  Glimpses of a Floating World is his first novel.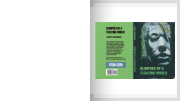 Larry Harrison
Author
Glimpses of a Floating World
Read Now – http://bit.ly/hxKYp
Twitter – @kirkburn46
website – http://www.woldsedge.org.uk/~larryharrison